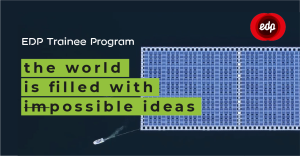 EDP Trainee Program Meet Up – Come and Get to Know More About The Program| 25 TH September
If you are at the final year of your Bachelor, currently doing your Masters or if you have already concluded it, and you want to know more about EDP Trainee Program, we have an excellent opportunity for you.
EDP Trainee Program is open to people of all nationalities and different academic backgrounds!
For this edition, EDP will be looking for 30 outstanding Trainees and it starts in January 2019 and it will last 14 months. During this time the trainee, it will exist two job rotations of six months each, where it is possible to gain a real multicultural exposure and the possibility of an international experience.
The applications for this edition of the EDP Trainee Program are now open until the 5th of October and you can apply at https://bit.ly/2N66crS .
EDP will have a presentation session on the 25 th of September at 14h, so you get to know all about it and clarify any questions that you might have.
Register now at https://quest18.typeform.com/to/ADV6NJ.
Organization:
Universidade de Évora
14:00 |
Auditório da Universidade de Évora